EVOGEN Evofusion
---
Delivery time: Germany 1-3 working days // Europe: 2-5 working days
---

19X Olympic winning trainer and Evogen CEO Hany "the Pro Creator" Rambod has gone to great lengths to create the most effective protein supplement available: Evofusion - Premium Protein Matrix.
Do you want more extreme growth and sustainable recovery?

Would you like more BCAAs and EAAs to strengthen your body?
Hany Rambod, nicknamed "The Pro Creator", has been building championships with his groundbreaking FST-20 training system for over 7 years. Rambod is proud to offer only quality innovations to its customers around the world, and the introduction of Evofusion is further proof of this commitment.
Here's a closer look at the Evofusion difference: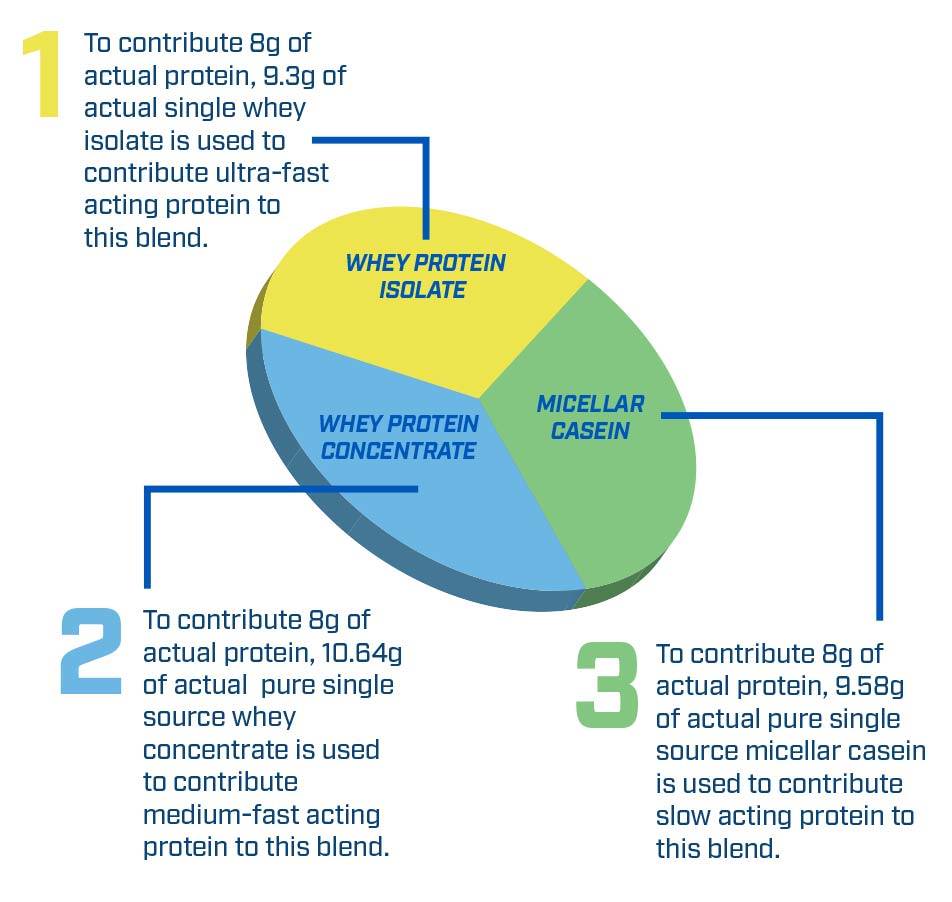 WHEY PROTEIN ISOLATE
WHEY PROTEIN CONCENTRATE
MICELLAR CASEIN
Evofusion contains an effective mixture of three proteins in equal proportions to ensure that you get suitable fast, medium and slow digestible protein sources. With each source in an appropriate ratio, Evofusion helps ensure the steady-state absorption of amino acids over a longer period of time than proteins from a single source, making them ideal for any time of day, meal replacement, etc.
1.
To contribute 8 g of the actual protein, 9,3 g of the actual single whey isolate is used to contribute ultrafast protein to this mixture.
2.
To contribute 8 g of actual protein, 10,64 g of actual pure whey concentrate from one source is used to contribute medium-fast acting protein to this mixture
3.
To contribute 8 g of actual protein, 9,58 g of actually pure micellar casein from a source is used to add slow-acting protein to this mixture.
* Evofusion Vanilla Bean Ice Cream
EVOFUSION IS LOADED WITH EAA AND BCAA

To achieve muscle protein synthesis (MPS), you need to have sufficient essential amino acids (EAAs) in your protein. Evofusion contains more than enough EAAs to achieve maximum protein synthesis for extreme growth and recovery over a longer period of time. Because muscle protein synthesis leads to muscle growth, prolonged increases in muscle protein synthesis can have a significant impact on your overall gains.
If you go to the extreme to create the most effective protein supplement available, you have to go to the extreme in developing the taste. Simply put, the better it tastes, the more you'll use it. The superior taste technology behind this high-quality transparent blend formula ensures that you look forward to drinking Evofusion every time. Are you ready for the ultimate taste experience? All in all, Evogen Nutrition is redefining the standards when it comes to an incredibly tasty premium protein blend. Try Evofusion, you will see and taste the difference!
Nutritional Information
Concerns the 1,6 kg version (52 servings):
Additional Information
ALLERGENS

Manufactured in a facility that also processes peanuts, wheat and eggs.

MANUFACTURER/IMPORTER

Evogen
271 E Hacienda Ave
Campbell, CA 95008
United States of America