EVOGEN PROBIOTIC DR 30
---
Delivery time: Germany 1-3 working days // Europe: 2-5 working days
---
EVOGEN PROBIOTIC DR 30
MAXIMIZE IMMUNITY AND DIGESTION
When was the last time you thought about your gut flora? Maybe never? Many are not aware that the intestinal flora performs many important functions in the body, e.g. B. Immunity, digestion and general health. If any of these aspects are not fully optimized, it can lead to health problems, illness and poor digestion. Why is all this so important? Thats is quite easy. Your gut flora is an important factor in the health of your immune system. It helps destroy pathogens that could enter the system and potentially cause damage. Improving your digestion also allows you to better break down and utilize the nutrients you eat throughout the day. Better digestion and absorption can help transport key nutrients to muscles, improving recovery and muscle growth. If you are not able to fully break down the food you eat, it can be let through and wasted.
A DELAYED RELEASE GOAL FLORA OPTIMISER
Evogen Nutrition Probiotic DR 30 is the ultimate gut flora optimizer that ticks all of the boxes above. Probiotic DR 30 contains 30 Bil CFU and also uses patented DE111® which has been clinically tested and shown to support immune system health and improve digestion. Probiotic DR 30 also contains inulin, a fiber that may improve gut health, promotes fullness throughout the day and slows down digestion. The benefits associated with Probiotic DR 30 are tremendous. Not only does it improve digestion and the immune system, but it also helps with weight management and blood sugar control as it improves the health of the gut microbiome. Evogen Nutrition Probiotic DR 30 is the perfect addition to your daily supplement regimen. Whether you're increasing or decreasing your weight, Probiotic DR 30 can help you stay healthy, protect yourself, and get the results you want from your workouts.
Nutritional values ​​+ recommended consumption
RECOMMENDED USE:
As a dietary supplement, take one serving (1 capsule) once daily with 8 ounces of water. To ensure optimal probiotic conditions, should be stored at room temperature or in the refrigerator. For best results, use Probiotic DR 30™ consistently for 60 days.
WARNING!
NOT FOR USE BY PERSONS UNDER THE AGE OF 18. IF YOU ARE PREGNANT, BREEDING, TAKING MEDICATION, OR HAVE ANY ILLNESS, CONSULT YOUR DOCTOR BEFORE USING THIS PRODUCT. Discontinue use two weeks before surgery or if you have an upset stomach. KEEP OUT OF REACH OF CHILDREN. NOTE: Store at room temperature. Avoid excessive heat. Keep the bottle tightly closed.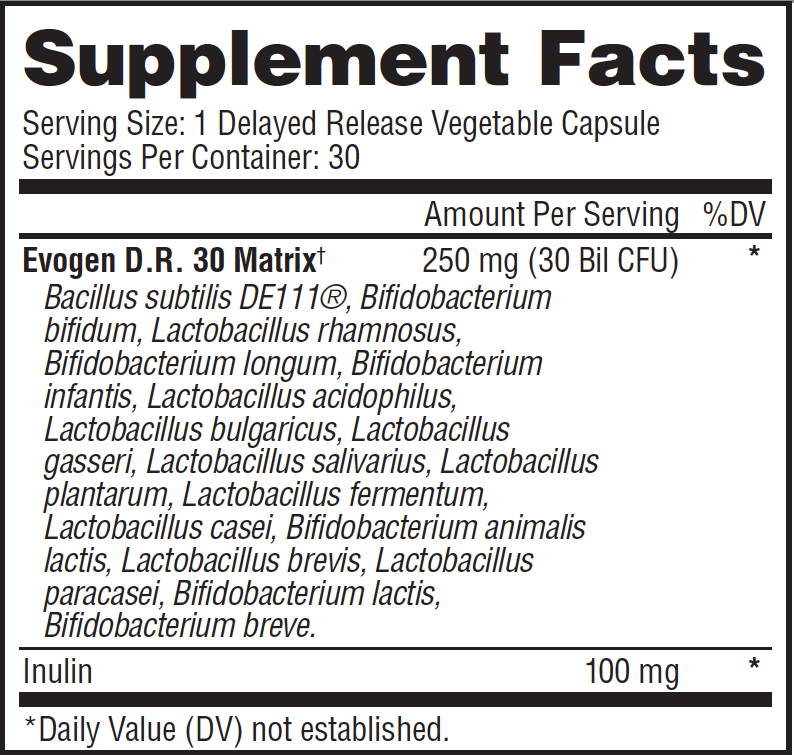 Additional Information
WEIGHT
0,046 kg
ALLERGENS

Made in a facility that makes milk, soy and wheat ingredients.

MANUFACTURER/IMPORTER

Evogen
271 E Hacienda Ave
Campbell, CA 95008
United States of America